Girdle is postoperative undergarment which is normally worn to ensure that skin becomes tightened after a liposuction. The same wear is now being used more frequently by mothers to help them to get rid of the stretch marks and reduce the size of their bellies, hips and waists, which also helps in relieve bloating and swelling. For it is a close-fitting, so it's vital to choose the best postpartum girdles that won't give a uncomfortable feeling.
5 Best Postpartum Girdles
Best postpartum girdles do have great help for mothers who are just finished the long and exhausting process. However, not all the postpartum girdles are in good quality or suitable for you. Also, different types of postpartum girdles have different functions that are suitable for designated groups. For example, if you have a C-section, then you may choose a postpartum girdle that is good for your sore back, and swollen abdominal muscles. Here are some recommended brands of girdle you can take for reference and find the right girdle that are suitable for your own conditions.
1. Bellefit Postpartum Girdle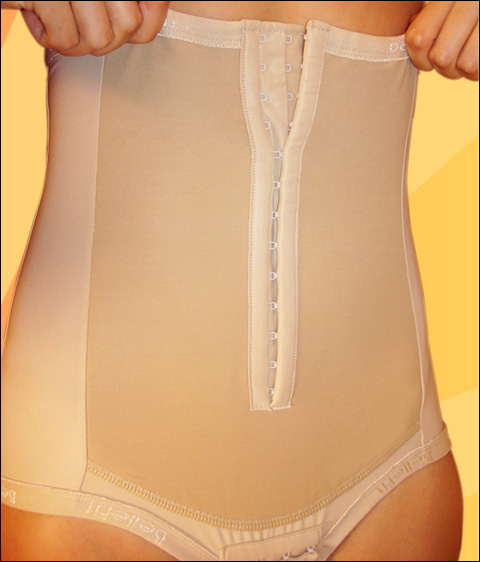 The Bellefit Postpartum is a medical grade wear for childbirth recovery. The girdle is available in corset, side zipper and pull-up types with different level of constriction provided by each type of wear. The fabric used to make the girdle is micro porous and breathable. In addition to compressing your belly size, the postpartum girdle also supports your spine and makes it straight. The good thing about the Bellefit Postpartum girdle is that it has been designed in an attractive nude shade. Besides, the girdle postpartum panties, sleep bras and shape wear are also produced by Bellefit.
2. Leonisa Brief Panty Girdle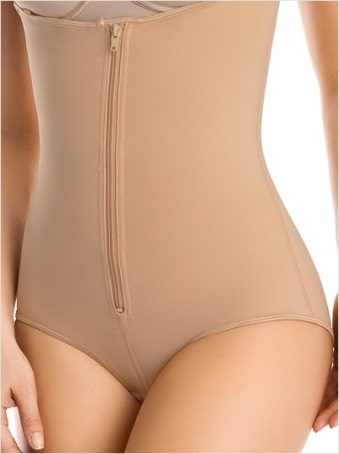 The corset style girdle from Leonisa comes in black and nude shade. It is sleek and looks more like lingerie than a postoperative wear for mothers. The Leonisa's girdle is made up of internal microfiber fabric making it easy to breathe while wearing the constrictive undergarment.
The stylish girdle from Leonisa cares for both your health and your looks. In addition to this sexy girdle, Leonisa also has a number of other innovative and attractive shapewears.
3. Gabrialla Postpartum Support Girdle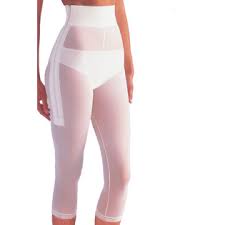 The Postpartum support girdle from Gabrialla comes in pull up style, thereforeit is more appropriate for mothers who have had a vaginal delivery. Still, mothers who have had two weeks after c-section can also use the support wear. The support girdle has been made up using cotton-lined nylon elastic and provides extra compression with the additional front and rear pieces. The undergarment is available at an affordable price in a number of sizes.
4. High Waist Abdominal Support Girdle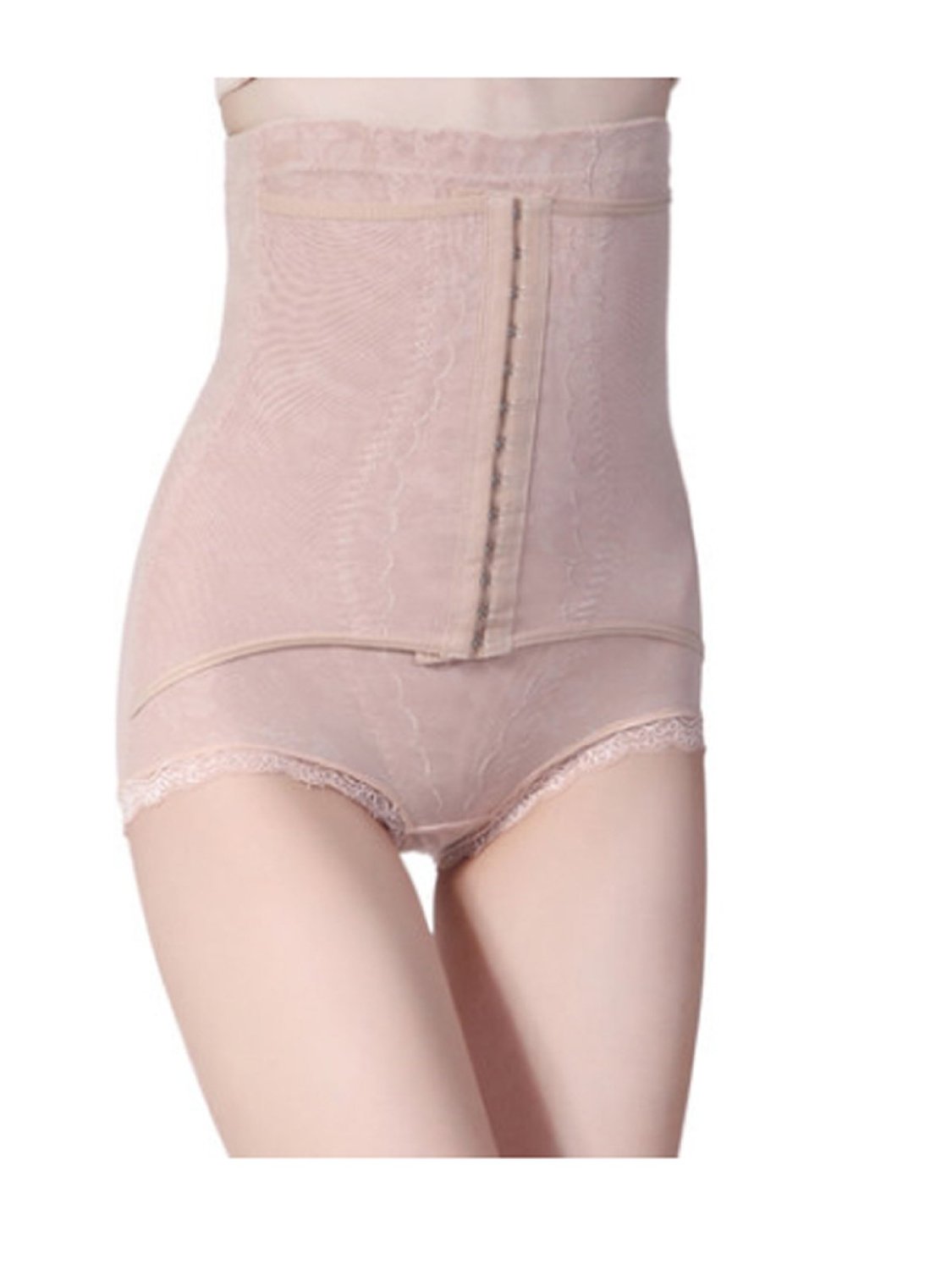 The high waist abdominal support girdle comes with extra support for back and abdomen to ensure that reduce lower back pain. This girdle is best for mothers who have had a C-section.
Available in black and skin color, the girdle will ensure that your body comes back to its pre-pregnancy shape in the earliest possible time. The girdle is available for different sizes and is designed to both make you look and feel good.
5. Elastic Medical Grade Class Postpartum Support Girdle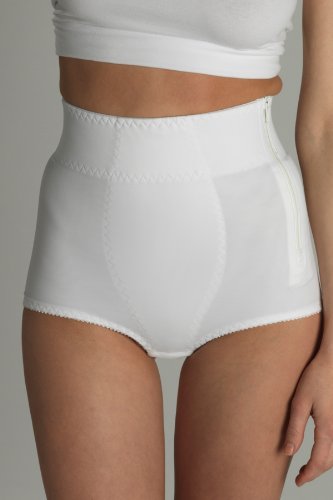 The elastic medical grade class postpartum support girdle is available in black, beige and white colors and a number of sizes from extra small to extra large. The postpartum wear is meant to make your body regain its shape after undergoing the immense changes that are part of pregnancy. The postpartum support girdle is meant to be worn immediately after delivery.
The elastic medical grade support girdle is supposed to be worn daily in order to make the body get back its pre pregnancy level of fitness. The elastic medical grade girdle is made up of modern elastic materials polyamide and elastane to provide additional stability to the abdomen.
If you want to know what body corset to use after birth, the following video may help you a lot:
Pros and Cons of Postpartum Girdles
Before you decide to wear postpartum girdles, knowing some pros and cons of postpartum girdles can be a help to your postpartum body shaping
Pros
The main benefit of the postpartum girdle is that it to get your body return to the shape it was before the pregnancy. The extra weight gained during the pregnancy months makes the skin loose and stretch marks appear on the body. The corset will help your body to recover much quickly from all these conditions. Modern girdles are much healthier compared to the old fashioned corsets as they are not extremely tight.If you are feeling faint while wearing the girdle it means that it compressing your belly too much.
Give you support after a delivery
The second major benefit of the girdle is that it provides support to both your back and abdomen, and keeps everything constrained making it easy for you to maintain your posture. The condition of skin after delivery is not so much different after liposuction, after which patients keep the skin wrapped up tightly for weeks.
In the modern world, mothers do not have too much time for rehabilitation because they have to come back to their normal lives. In such a scenario, working up hours in the gym to get fitness and shape back or waiting for the body to recover itself on its own, both are out of question. Wearing a girdle can be the best option, because it does not require mothers to put extra time and get them obtain their shape in a quick time.
Cons
Discomfort caused by corsets
Girdles aren't very comfortable because they pinch and are tight around the belly. After pregnancy, when a girdle is supposed to be worn mothers also have to tend to their babies who would normally like to have a softer belly rather than a tight one. So, if you really are using a corset, you should use it for 8 hours rather than 24-7.
The first few days after delivery are painful and being asked to wear a corset that is tight and compresses your belly right away is difficult. This is the reason why you should decide it for yourself.If you can bear the extra pain due to the girdle immediately after delivery or you would like to wait a few weeks before you start to wear it, then you can try it on. You must keep in mind that for best results, it is recommended to start wearing a corset immediately after delivery.
Some kind of embarrassment
Some women find wearing a girdle embarrassing. May be it is because they do not want to admit that they had to do something to get their shape back or that they opted for an easier option rather than working hard to regain their body back. Whatever the reasonbe, stigma is attached to a corset andchanging the name like belly wrap might make it easier for some to admit that they are wearing it.