When your baby starts teething, you need to have teething toys to help soothe and massage those sore gums. The best teething toys have both flexibility, textured surfaces and a liquid inside that can be cooled in the fridge. This can help ease your baby's discomfort and assist the teeth in breaking through the gums. If you are looking at different teething toys, consider the benefits, age range and how the product works.
How to Buy Best Teething Toys for Your Baby
Look for BPA Free Materials. Bisphenol A is a toxic compound found in some plastics and can be harmful to babies. Make sure the brand of teether you buy is BPA free.
Make It Fun to Play With. Look for a teether that entices baby to play with it. Some look like sets of keys and have colorful designs. Look for designs that baby can easily hold onto.
Look for Textures. Textures will help soothe baby's gums and assist the teeth with breaking through.
Easy to Clean. Make sure the teether is washable.
Safety and Ease of Using. Make sure the materials will hold up with baby's chewing. Also, one that won't puncture when baby cuts a tooth. Make sure it can be frozen or cooled in the fridge safely.
8 Best Teething Toys
When your baby needs some comfort for teething, you can give your baby a teething ring to chew on. Choose a teething ring that is solid and made from silicone. The ones that are filled with liquid sometime leak and you cannot keep them sterile. Avoid freezing which can make the gums hurt worse, but you can place it in the fridge to cool it. Below is a list of the best teething toys:
1. Nuby Wacky Teething Ring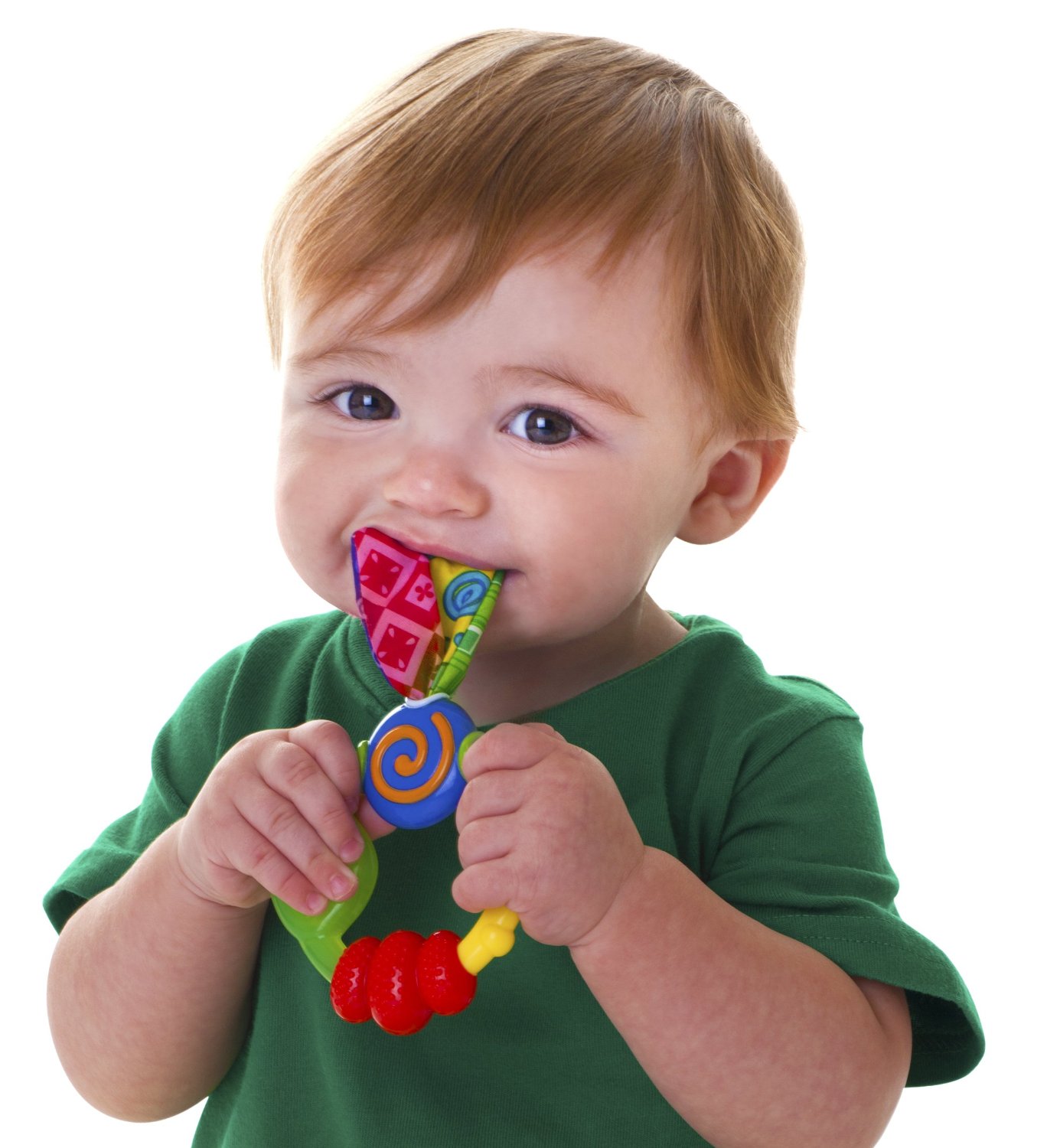 All of the Nuby® products are designed to stimulate baby's eye/hand coordination, including their teethers. They are easy to hold onto and help gently massage gums. This teething ring is made from BPA free silicone. Designed for baby's 3 months or older, it has different textures; soft for the front, larger surface for middle teeth and firm for back teeth. The fabric has a crinkle sound that is attractive to babies.
2. Razbaby RaZ-Berry Teether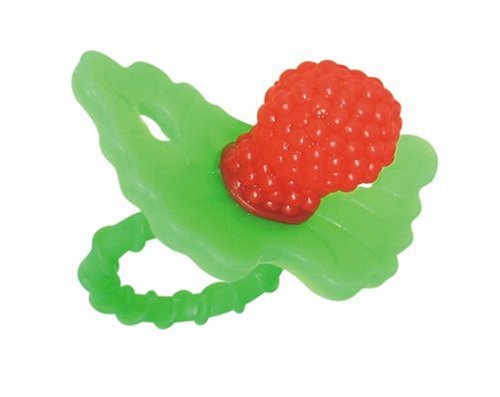 Razbaby makes teethers that look like pacifiers and are hands free. The Raz-Berry teether is made of 100% medical grade silicone and is BPA free. It is designed for babies 3 months and older. The teether can be frozen for extra comfort and has a safe/sturdy design. The bumpy surface massages the gums gently in a natural way. This product received outstanding reviews from moms who have tried it, making it one of the best teething toys.
3. Manhattan Toy Winkel Rattle and Sensory Teether Activity Toy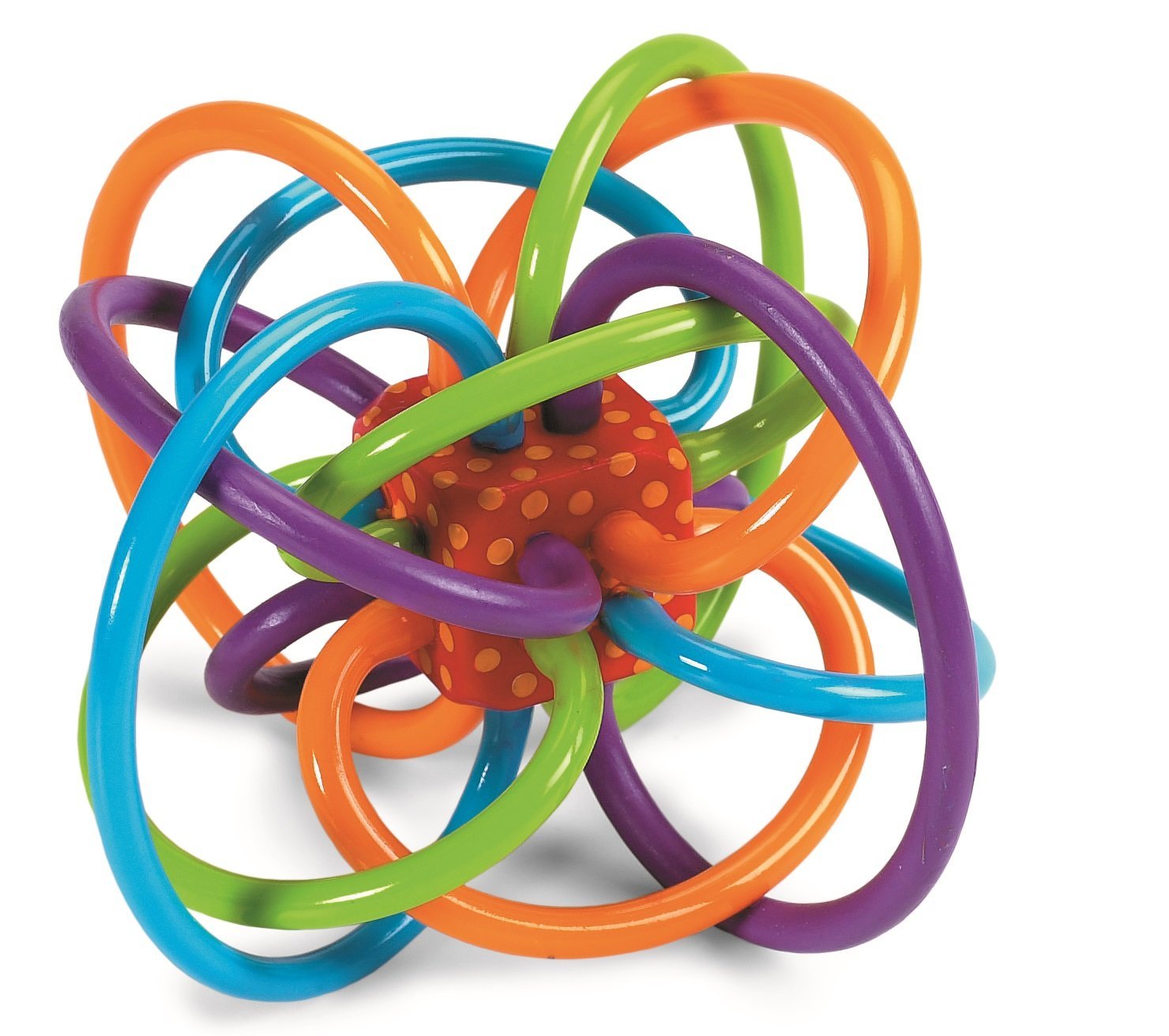 The Manhattan Toy Winkel Rattle and Sensory Teether Activity Toy is made up of soft plastic loops in bright colors. Babies can easily grasp the loops with one or two hands. Little ones are mesmerized by the maze of tubes and the center is a rattle. This teether can be used by baby's ages 0 month and up and is BPA free. It is made of polyurethane tubing and meets the European requirements for phthalates.
4. Vulli So'Pure Teether, Sophie the Giraffe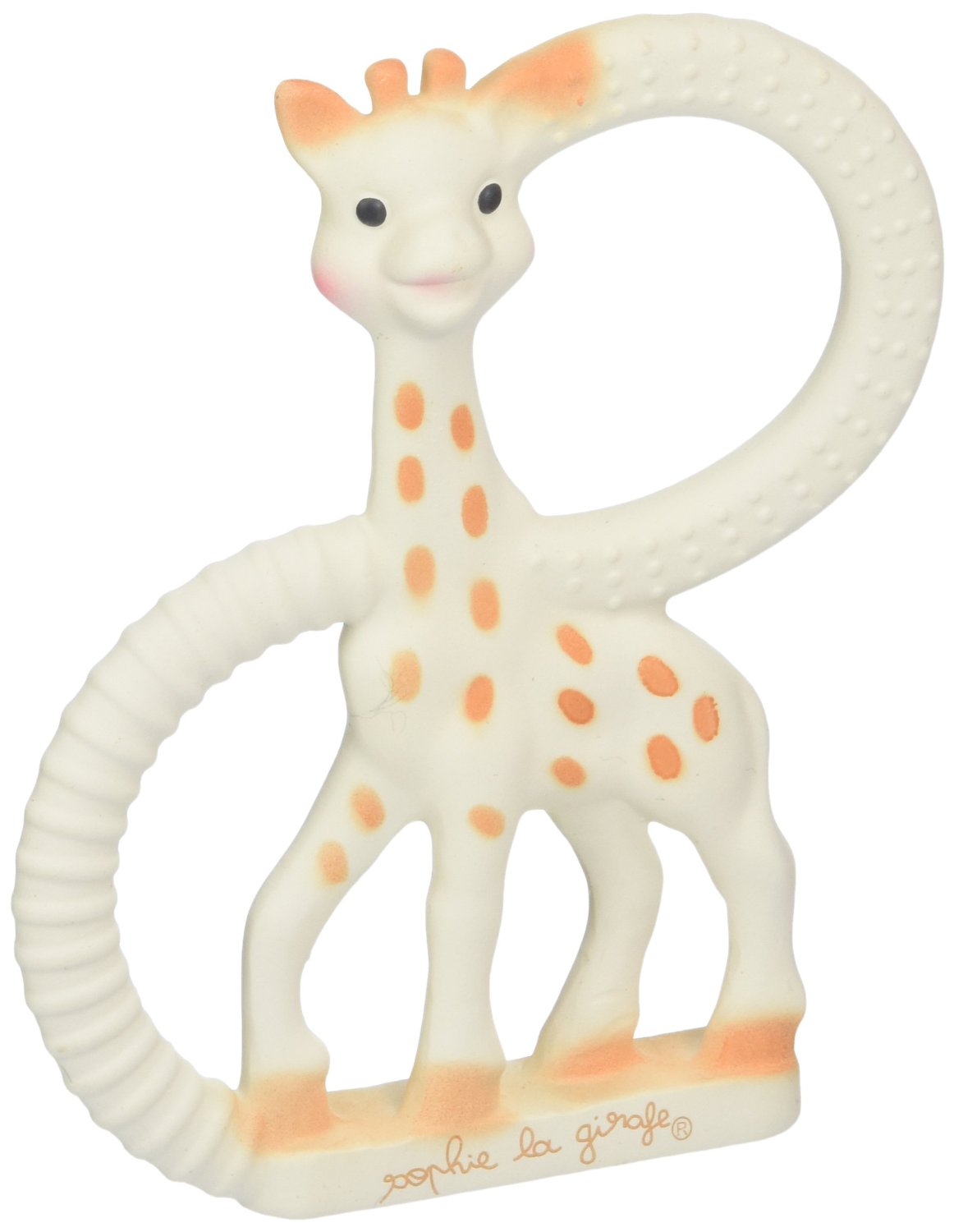 This revolutionary teething ring is the first ever to be made from 100% completely natural rubber. There is no synthetic ingredients, no BPA and very safe for babies. There are two different textures to meet baby's needs. You can choose the "soft" model or the "hard" model depending on where your baby is in the teething stages.
5. The First Years Star Teething Blanket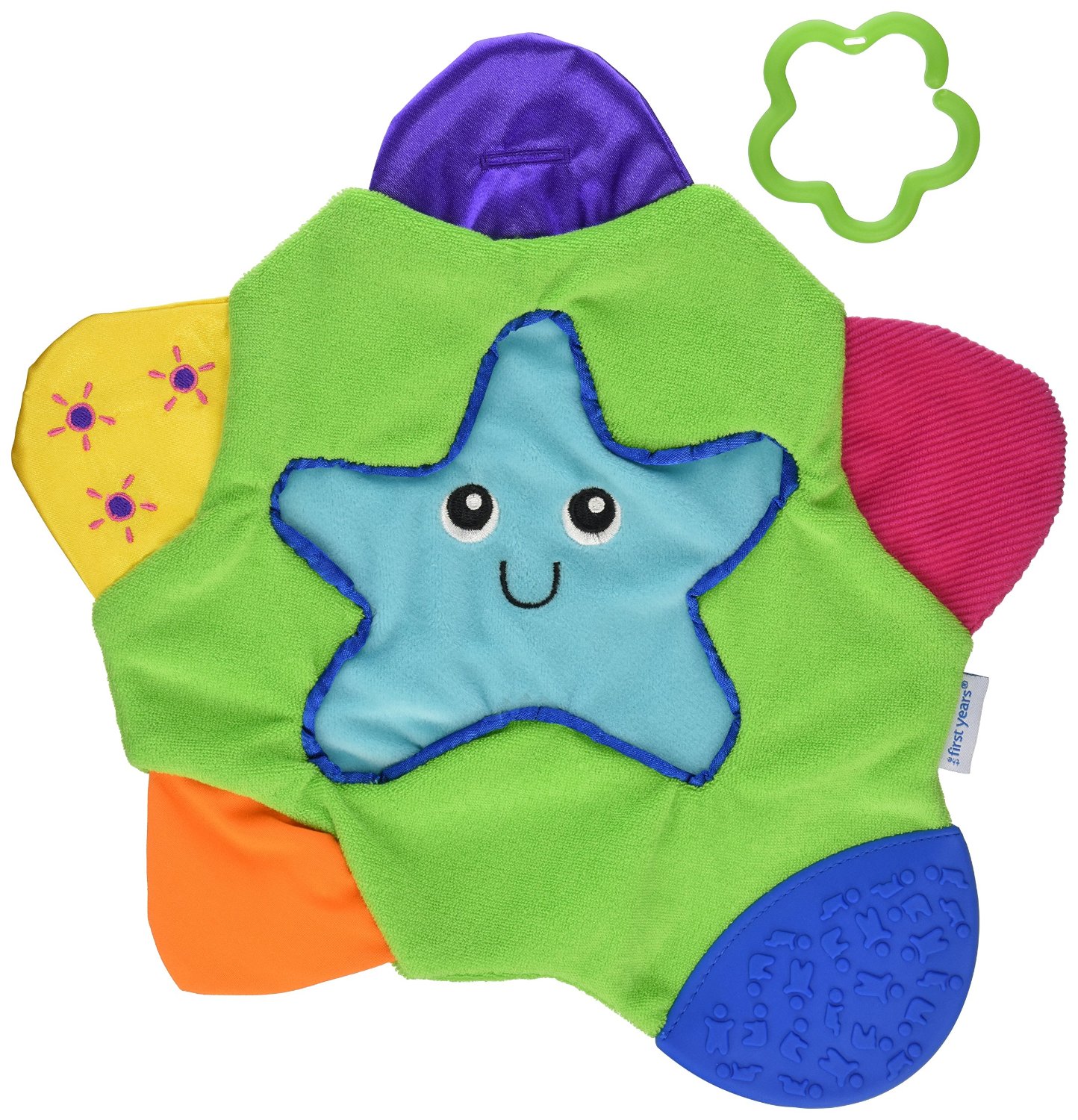 Moms rave about this blanket that doubles as a comfort blanket and a teether. Babies love it because it has teething textures mixed with a soft terry and satin blanket. There is both chewing textures to relieve sore gums and crinkly satin that can distract a fussy baby. One of the tips has a squeaky toy. For convenience, it has a loop that can be attached to the car seat, stroller or side of the crib.
6. Bright Starts License to Drool Teether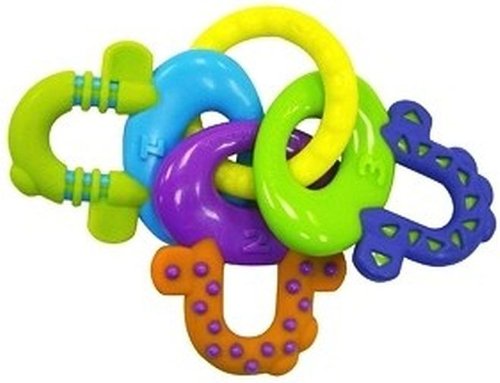 Have you ever noticed your keys are one of baby's favorite toys? Bright Starts License to Drool Teether makes chewing on keys safe and fun. They use vibrant colors that are attractive to baby with textures that soothe sore gums. These are handy and easy to keep a set in the diaper bag, car and at home. They are easy to grab onto. There is also another set that comes in pink with a portion of the profits donated to breast cancer charity.
7. Zo-li Gummy Stick Baby Gum Massagers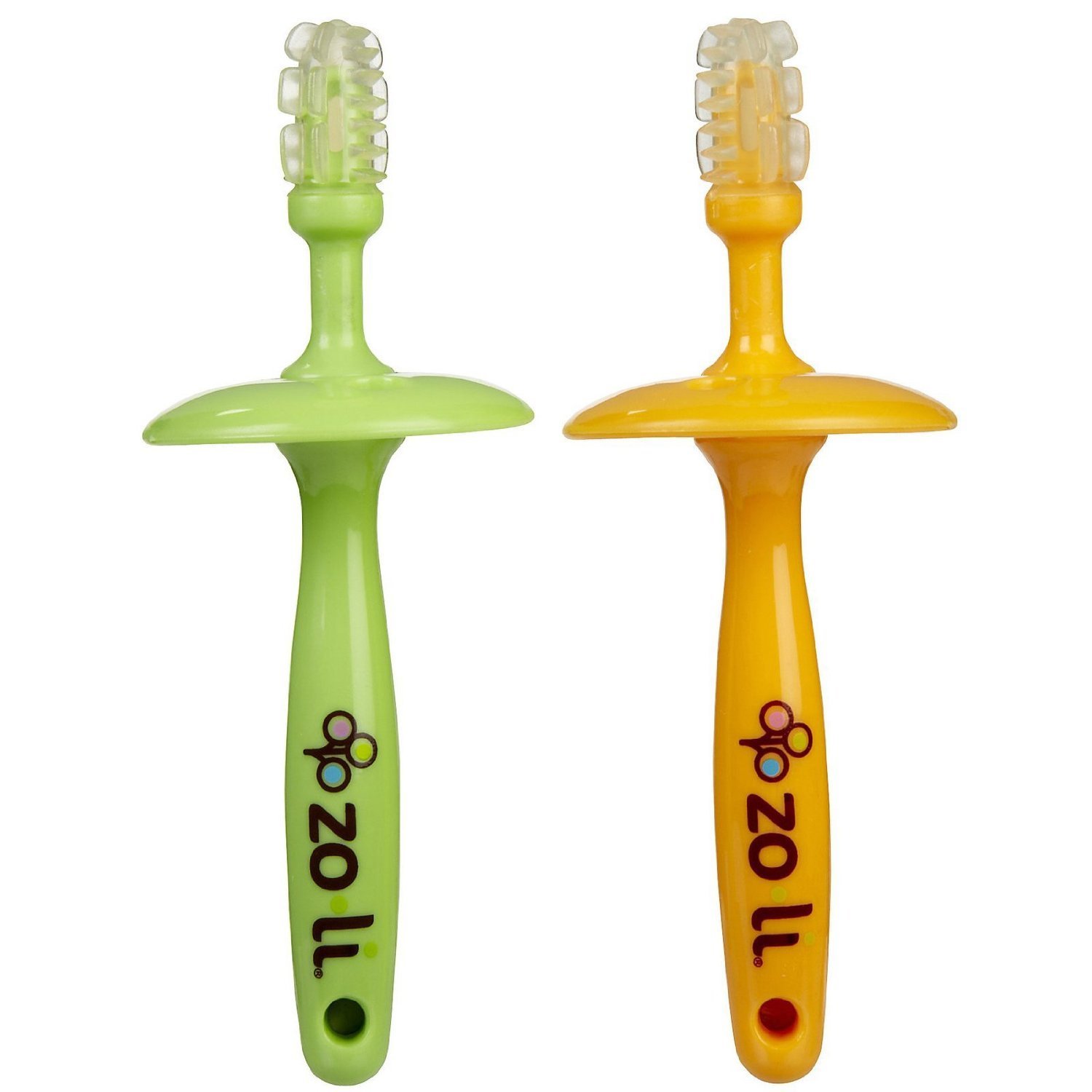 These massager sticks are very convenient, soft and get to those "hard-to-reach" areas like the back teeth. They are made of soft BPA free rubber that look like a baby toothbrush. They come with a shield to prevent baby from getting them too far back in the mouth and help baby learn good dental habits early on. You can sterilize them in your dishwasher and they pack well to go anywhere with you.
8. MAM Cooler Teether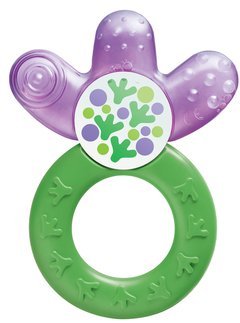 The best thing about MAM® products is they were designed by pediatric dentists with baby's oral health in mind. The MAM Cooler Teether® is made from BPA free materials that are safe and durable. You can put this teether in the refrigerator to help cool and soothe sore gums. It was designed for easy grip, but the teether handle stays warm enough for baby to hold on comfortably. There is a convenient clip to keep the teether attached to baby's clothing or blanket. This product is approved for babies 4 months or older and is recommended by many moms as one pf the best teething toys.
Extra Tips for Reliving Teething Discomfort
Pain relief from teething can come from many different home techniques without the use of teething medications. Here are some teething relief tips you can do at home:
Give your baby a cool wet washcloth that has been placed in the refrigerator.
If your baby is eating solids, you can give them a cold piece of fruit or vegetable to chew on.
Use your finger to massage baby's gums.
Offer baby a pacifier.
Keep drool wiped up. This can cause irritation to baby's delicate skin.
Chilled water in a bottle or cup is helpful.
Do not tie the teething ring or pacifier around your baby's neck. It can cause strangulation.
As a last resort, ask your pediatrician about the use of a pain reliever like Tylenol or Advil. Be very careful with benzocaine products as they have been known to reduce the amount of oxygen in the blood.
Click here to learn more tips to get your teething baby to sleep through the night.