If you are expecting a baby, decorating your nursery is one of the things you need to do before the big arrival date. Nurseries don't have to be expensive and can easily be done on very little money. You can search thrift stores, make your own décor and include family heirlooms. You will want a nursery that will grow with your baby and be timeless for many years to come.
You will need a clear cut plan laid out before you begin. It will be helpful to know the colors you wish to use, your theme, and include ample storage space for baby gear. It is also helpful to think about what you will need to care for your baby day and night. This article will help you lay the foundation for planning a great nursery for your new little one.
How to Decorate Your Nursery
When planning how you want to decorate your nursery, picking a theme is first on the list. Here is some help with picking your theme and some cute nursery theme ideas to get you started but the possibilities are endless.
1. Things to Consider When Choosing a Theme
When choosing a theme, nursery ideas are sometimes based on the gender of the baby. While some may choose to do a "gender neutral" theme. Picking a theme based on gender can be tricky if you don't yet know the sex of the baby or you aren't quite sure. Gender specific themes are things like race cars, princesses, trucks, and flower patterns. Gender neutral themes are patterns like zoo animals, natural fiber, Noah's ark, and cartoon characters.
You will also need to take into consideration if this will be a shared room. An older male sibling may not take to pink flowers or vice-versa. You can easily blend baby décor into something very livable for an older child that will also grow with the baby. Use muted tones, natural colors and fun patterns that all children like. Nature scenes like trees and clouds are always fun.
2. Recommended Nursery Theme Ideas
Decorating your nursery can be fun. Especially if you love the theme you pick out. Here are a few nursery ideas that are easy to do and will grow with your baby in the years to come: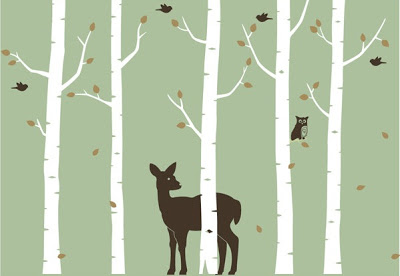 This gender neutral them incorporates the colors of chocolate brown and sage green. These are popular colors for nurseries and you can find ample accessories to match. Use decals on the walls of trees and nature items. You can even decorate the ceiling with glow stars and glow moon. The crib and changing table look best in espresso brown with this theme.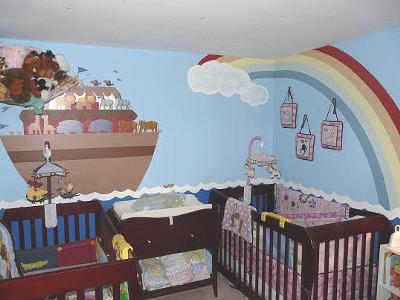 This theme can easily be adapted for either boy or girl. Use a Noah's Ark crib theme and paint the walls pink for a girl or blue for a boy. You can use fun sponge painting techniques to give the walls some texture on the bottom. Find a Noah's Ark wallpaper border to split the room in half and use a solid color on top. Fill the room with lots of stuffed animals in pairs.
Disney Princesses
For baby girls, Disney Princesses are always a popular option that will grow with your little princess. Find a crib in white that converts into a toddler bed and then into a regular size bed. The bedding set can include a canopy for an even more royal look. Paint colors can be either light pink or even light purple hues.
Disney's Lion King/Simba
For baby boys, Disney's Lion King and baby Simba pattern works very well. The room looks great with matching earth tones in brown's, yellows, and green colors. Pair this pattern up with darker wood tone furniture, and jungle décor.
Zebra Print/Abstract Art
If you are into contemporary design, zebra print with abstract animal art is the way to go. Babies love black and white with sharp contrasts. Use black and white zebra print with bright reds, yellows, and other bold colors. This works as a gender neutral room or your can personalize it for a boy or a girl by adding in gender specific colors if you like.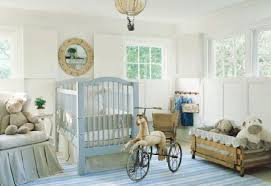 A vintage baby room is the perfect way to display family heirlooms and antiques that you cherish. Decorating your nursery with vintage style is as easy as visiting a few antique stores. Go with light yellows and eggshell paints. Add in some lace and crocheted doilies. This style is good paired up with a Jenny Lind type crib.
Nautical Nursery
Your little sailor will love the boat themed room and grown-ups will adore the style. This type of décor pairs well with sharp navy blues and white tones. If you can find it, boats make great focal points for a mobile over the crib. Carry the sea theme through with beach and ocean décor around the room.
If you rent a home or an apartment but still want a special space for baby, you can still be successful at decorating your nursery. Nursery ideas for a rental include removable wall decals that can easily be removed, bright colorful rugs, compact storage for small spaces like under crib tubs, and a whimsical mobile over the crib.
Tackling Nursery Wall Decor While Renting:
3. Additional Tips for Nursery Decoration
Make a "brainstorm board." As you go through different ideas, copy and paste them onto a board so you can see how they look together.
Less is more. Try to stay on the simple side. You may want to buy every matching accessory, but this tends to clutter the room. Plus, a more "minimalist" look will be easier to keep up.
Keep colors calm and soft. Soft colors can be calming to a new baby. Muted tones help promote a low-stress environment. While it is true that babies like to look at bright colors and contrasts, it is better to save these for the playroom.
Safety first. If you buy any baby equipment second hand, make sure you check product recalls. Many older pieces have gone through recalls such as car seats, cribs, playpens, etc. It is perfectly fine for families to pass along items to share, just make sure they are safe for use.
What about the walls? If you are doing either a bright nursery or even earth tones, try to keep your walls neutral. It even helps to split the wall in half and do two different colors.
Make your décor work for you. Cute additions to your baby's room can keep it fun, but functional. Use the changing table shelves to organize baby needs like diapers, wipes, and blankets. When baby starts crawling and walking, they can turn into toy storage shelves.
Must have extras. Some parents like to keep a daybed or recliner in the nursery for late night feedings. Don't forget essentials like a changing table that can save your back. A baby monitor so you can hear baby when you are elsewhere in the house. Make sure you attach a few pictures on the walls, a mobile over the crib and other things for baby to look at, this can help stimulate baby's brain growth.