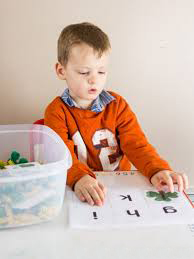 Most children learn the alphabet song very early in life. It has a great sing-song rhythm that gets their attention and helps them learn. However, they rarely learn to recognize the actual letters of the alphabet until they begin school. You can give your child a great head-start on learning the alphabet by teaching them through several different methods. These are fun, enjoyable lessons in how to teach alphabets to kids.
When Should I Start to Teach My Baby Alphabets?
Right now, your goal should not be to teach your baby alphabets, but rather, to make it clear how much fun books, songs and rhymes can be. The more they love books and the words in them, the more eager they will be to learn more.
When your baby is 15 months old, you can start them on the path to learning alphabets by pointing out what words are. Point to the word and read it aloud. You can do this with letters, too. But keep in mind that most children won't be able to sound out the alphabet or name any letters until they are around four years old.
How to Teach Alphabets to Kids
There are three types of learners: visual learners, auditory learners, and kinesthetic learners. These learning styles become clear from our earliest days of play as a toddler. Most people use all three learning styles in order to incorporate something new into their lives. These three styles can be used to teach alphabets to kids.
1. Watch Fun Alphabet Videos
Kids can learn more about the alphabet through fun videos that hold their attention. There are many of these out there. Here's just one to get you started:
2. Sing Songs
Singing the alphabet can help a child learn it at a very early age. They might not know how to recognize each individual letter, but the rhythm of the song can arouse their interests easily. Watch this video with your child and learn to sing it together:
3. Read Picture Books
Introduce your baby to picture books about the ABCs as soon as possible. The repetition of going through these books over and over, and the pictures that often associate letters with things (such as A for apple) can make a big impression on your little one. Here are a few great picture books that can help you learn how to teach alphabets to kids.
| Books | Description |
| --- | --- |
| Dr. Seuss's ABC | A classic book that belongs in every parent's bookshelf, this Dr. Seuss book was first published in the 1960's, but remains one of the most beloved books today. This book has been used by millions of children to learn their alphabet. |
| Animalia | This book contains amazing illustrations and stories for each of the letters of the alphabet. There are hidden images inside several of these editions, and you can even find this as a coloring book to give your child more hands-on experience with letters. |
| Eric Carle's ABC | This modern book is only 16 pages, but those pages fold open into amazing pictures of animals. The age range is four to eight, but young babies really love this book, too. |
| I Stink! | This is a funny book based on a garbage truck. Kids love things that are slightly gross, and this book capitalizes on that by talking about the "stinky" stuff in the garbage, from apples to zucchini. |
| E-mergency! | The puns in this book chronicle the misadventures of "E", who is assisted–or not–by various other letters. The "well-rounded" O saves the day. |
| Shiver Me Letter | This pirate ship searches for the 25 other letters of the alphabet–they already have the "R" that all pirates love –is a rollicking good time for your little one. The sing-song style makes it easy for kids to imitate you. |
| "A" Was Once an Apple Pie | This silly story, written in the form of a letter, is great for kids to read aloud. The illustrations are sure to stay with you long after the book is done. |
| Alpha Oops!: The Day Z Went First | What if the alphabet was actually a classroom full of kids who didn't want to obey the rules? This mixed-up ABC book is perfect for kids who want to laugh their way through the story. |
| Eating the Alphabet | The rich watercolor images are a great way to introduce kids to the alphabet and to different fruits and vegetables. There is even a glossary and other information at the end for more information on the foods you find in the book. |
| Alpha Bugs | This pop-up book offers surprises with every little tab pulled and every page that expands. It turns everyday objects into insects, which then correspond with all letters of the alphabet. This can be a fun reading experience for older children. |
4. Play Games
There are plenty of games that can make your child happy while teaching them the ABCs. Here are a few of the most popular ones.
| Game | Instruction |
| --- | --- |
| Match up | Make flashcards out of stock paper, with a letter on each. Ask your child to match the uppercase letters with the lowercase letters. Repeat the name of the letter together with your child when they get it right. |
| Trace down | Let your child trace the letters on a piece of paper, then ask him or her to draw something that starts with that letter. For example, ask them to trace the "A" and then tell them that "apple" starts with it, and ask them to draw an apple. |
| Little detective | Lay out your alphabet flashcards in order. Then take one card away while your child has his eyes closed. Which card is missing? |
| Bingo | Make Bingo cards, and ask your child to mark the letter as you call it out. When they get a "bingo", they can earn a little token of fun such as a small toy or candy. |
| Hide away | Fill a bag with various objects such as a pencil, a toy car or a book. Ask your child to find the items through touch, not looking into the bag. "Can you find the thing that starts with the letter 'c'?" When the child pulls out the car, they win a prize. Do the same with the rest of the goodies. |
| Make alphabet cookies | Make alphabet cookies with your child, calling out each letter that you cut out with the cutters. Then ask your child which letters he wants to eat. |
5. More Tips on How to Teach Alphabets to Kids
You can teach the child the letters of his or her name, have the child trace the letter as they say the letter name out loud.
You can also make it easier to learn by avoiding pairs of letters that are easy to get confused. Finally, try association–ask your child to pick out the words that begin with a certain letter.
Remember to teach letter names before the child learns the sounds.