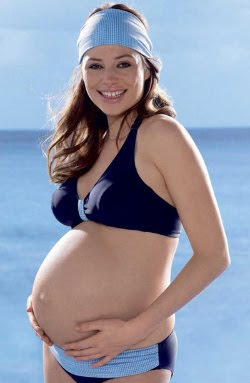 When you're pregnant, you have to give up a lot of things. Sushi, for instance, and maybe goat cheese, too. But there are somethings you don't have to give up, and that includes swimming, or lounging about on the beach or at the pool. Then, choosing the right swimwear becomes more important since you are not alone anymore! Maternity swimwear can offer you a great way to cover up, feel sexy and enjoy the water just as you have always doneright along with your charming baby bump.
How to Select a Maternity Swimwear
When choosing the best swimwear, the way it looks is very important. Women who are pregnant want to feel sexy and beautiful, and the right maternity swimwear will reflect that. A good suit will also allow you to move comfortably in the water or on the beach—something that any pregnant woman will greatly appreciate. Here are a few tips on choosing the right maternity swimwear.
1. Size Is Important
When it comes to your body shape, the type of swimwear you choose can help you look even better than you already do. Shorter women can benefit from vertical stripes that accent the body and make you look longer, while taller women can get away with horizontal stripes. In most cases you will want a swimsuit that covers your body well, simply because your belly and breasts are growing like crazy! You don't want anything slipping out and causing a 'wardrobe malfunction' while at the beach. If you aren't sure what looks best on you, speak to a salesperson about maternity fashions and ask for his or her advice when you try things on.
2. Opt for the Right Support
Your body is growing and changing, and that means your support needs to change. You definitely need support for your growing belly, as well as support for your breasts and hips. Look for a tank-style top that will hold your bust comfortably even as it grows bigger. Many maternity styles also feature a band of support around and under the belly, which is definitely what you need if you will spend a lot of time in the water. Be sure to look for a suit that has plenty of give and stretch, as your hips will grow wider throughout the next nine months.
3. Choose the Style and Color
As always, black is in since it hides a multitude of flaws and makes you look slimmer—something that many pregnant women might appreciate. Tankini is a popular option for those women who need to use the bathroom often, as usually happens when that growing baby is pushing on your bladder. Some women might choose a suit that reveals the gender of their baby, such as a light pink or baby blue. When trying on suits, make sure you choose the one that makes you feel pretty, suits your body shape and gives you plenty of room to grow.
4. Select According to Your Body Shape
The right suit for you might depend upon the shape of your body. Here are some of the most common body shapes during pregnancy and which suits that work best.
| | |
| --- | --- |
| Body Shape | What to Choose |
| Large breast | Look for a suit with a supportive shelf bra or a high neckto better hide your chest. You can also go with a dark-colored top and a light-colored bottom. |
| Small breast | Create more cleavage with a halter-style that has a plunging neckline. Look for suits that have some sort of texture, ruffling, sparkles or the like across the bust area. |
| Large hips | Low-cut leg openings offer the coverage you need for your hips. You can also go with a suit that has a vertical stripe, or one that has a skirt. |
| Short legs | Higher-cut openings can create the illusion of length, thus making you appear taller than you really are. |
5. Tips on Selecting a Comfortable Maternity Swimwear
Maternity swimwear can be very comfortable if you follow these tips to choose the right suit:
Look for a thin mesh lining that offers extra support. This will help avoid the pinching and pulling that some swimsuits seem to do.
If the straps dig into your shoulders, the suit is too short. Go with a larger size or a longer version.
Make sure any underwire in the suit is very well-padded so it doesn't dig into your skin, especially as you move around in the water.
Straps should always be adjustable and padded well. As you grow, your body will put more pressure on the straps, so they need to be able to grow with you.
Leg openings should be comfortablewithout pinching or chafing. If they are too tight, go with a different suit or a larger size.
Consider the coverage. Your needs change as your belly grows, so make sure your suit is long enough, covers enough of your chest and doesn't ride up on your body.
Here's more on selecting the right maternity swimwear:
Best Maternity Swimwear for You
Here are some of the best maternity swimwear for pregnant women. They get very good reviews on Amazon. Check if you like any!
| | |
| --- | --- |
| Maternity Swimwear | Description |
| Prego Women's Babydoll Halter | This lovely suit offers 20 percent lycra, which means it will stretch with you. Other great points include a halter style, bottoms that pull up over your bellyand comfortable nylon fabric. |
| Seraphine Maternity Women's Halter neck Maternity Tankini | Designed for the pregnant body, this one also has stretchy material in 20 percent of the fabricas well as full-coverage bottoms. The top pulls down over your belly, thus covering you up during those first months of your showing bump. Padded cups and straps, adjustable ties help enhance your beauty. |
| Mermaid Maternity Women's Maternity Halter V Insert Tankini Top | This very comfortable suit has a soft cup bra, drawstring bottom for better fit, a top that stays put and the option of swim shorts, swim skirtand other matching bottoms. As with other options, it has 20 percent stretchy material. |
| Triangle Slide Maternity Bikini | This stretchy bikini has bottoms that definitely offer great coverage, as well as a rolled waist for added coverage as you grow. The top has removable pads, so you can also adjust the way you look as your bust gets bigger. The tie front makes this easy to put on which you might appreciate during those later (larger!) months. |
| Marina West Women's Halter Tankini & Shorts Swimsuit Set (2 Piece) | Available in a huge array of colors and combinations, this suit is fully lined, offers light removable padding at the bust, ties in a halter style and stretches to accommodate your growing belly. Keep in mind that these sizes do run small, so make sure to choose your suit carefully. |
| Seraphine Maternity Women's Purple Multiway Maternity Swimsuit | This very flattering suit is suitable for those with larger hips. The plunging neckline makes your breasts stand out, and the multi-way skirt offers cover-up in any way you like. It also has lycra and is double-lined, thus designed to last all season. |
| Maternal America Women's Jenni Tankini | The adjustable tie bikini fits right underneath the belly, and the top is flowing and open at the bottom, to better allow you to grow throughout the months. The padded bra offers support, while the halter ties allow for adjustable wear throughout your pregnancy. |